Love and Trivia
Regular price
Sale price
£21.00 GBP
Unit price
per
Sale
Sold out
Looking for a fun and exciting way to connect with your partner or friends? Look no further than African Lovin' - the ultimate conversation starter game for adults!
With 100 unique conversation starters, 100 African trivia questions, and 100 African charades prompts, African Lovin' has everything you need to spark interesting and engaging discussions about life, love, and African culture. Whether you're looking to learn something new about your partner or simply have a good time with friends, African Lovin' is the perfect game for you.
Designed for players aged 18 and up, African Lovin' is full of fun and controversy. You'll laugh, you'll learn, and you might even find yourself getting into some heated debates as you explore the different topics and themes covered by the game.
So what are you waiting for? Get your copy of African Lovin' today and start enjoying hours of stimulating conversation and entertainment with your loved ones. Whether you're playing with your partner, friends, or family, African Lovin' is sure to be a hit!
Share
What is it?

African Lovin' is the 3 in 1 deck of African card games.

With 300 conversation starters, trivia and charades

Get ready to upgrade your games night with African Lovin' for a conversation starter like none other
What is in it?

100 unexpected conversation starters

100 puzzling African trivia

100 surprising charades

A sand timer

One Dice

A Red Card ( if you need a time out)  
How to play

3 THEMES = 300 OPPORTUNITIES

Conversation - Shuffle the black cards and pick any card and discuss the topic with your group, allow each person to speak freely without interruptions before asking a follow up question 

Leave it to chance and toss the dice 

Charades - use the white side

Use gestures only to act out as many charades as you can in one minute Your aim is to get your teammates to guess what is on your card without saying a word

 

Trivia - use the grey sides

Quiz your group on African history and culture, see how many trivia questions as they can in one minute
Shipping

Free standard UK shipping
View full details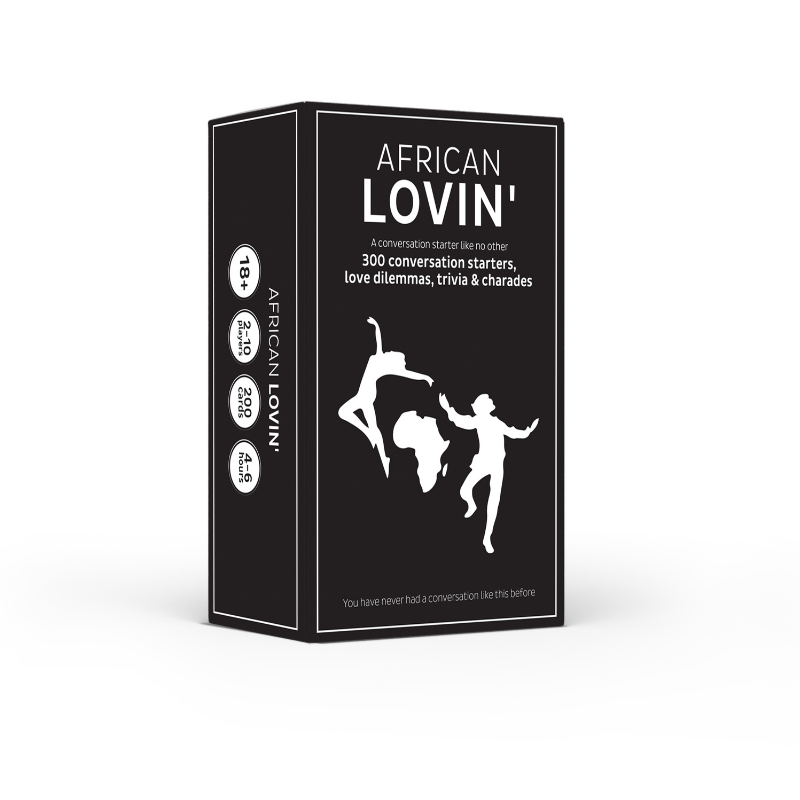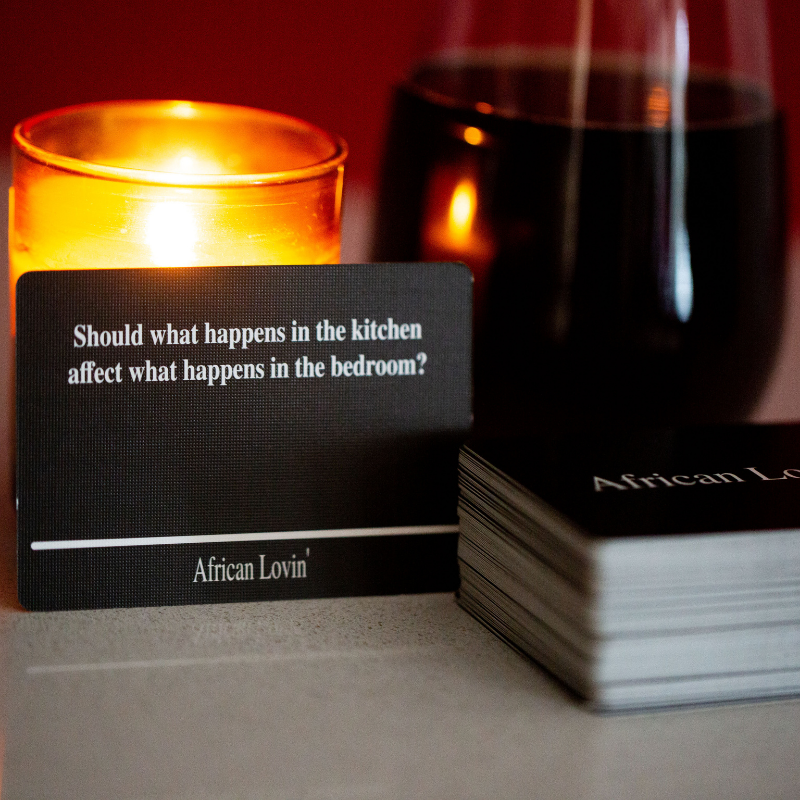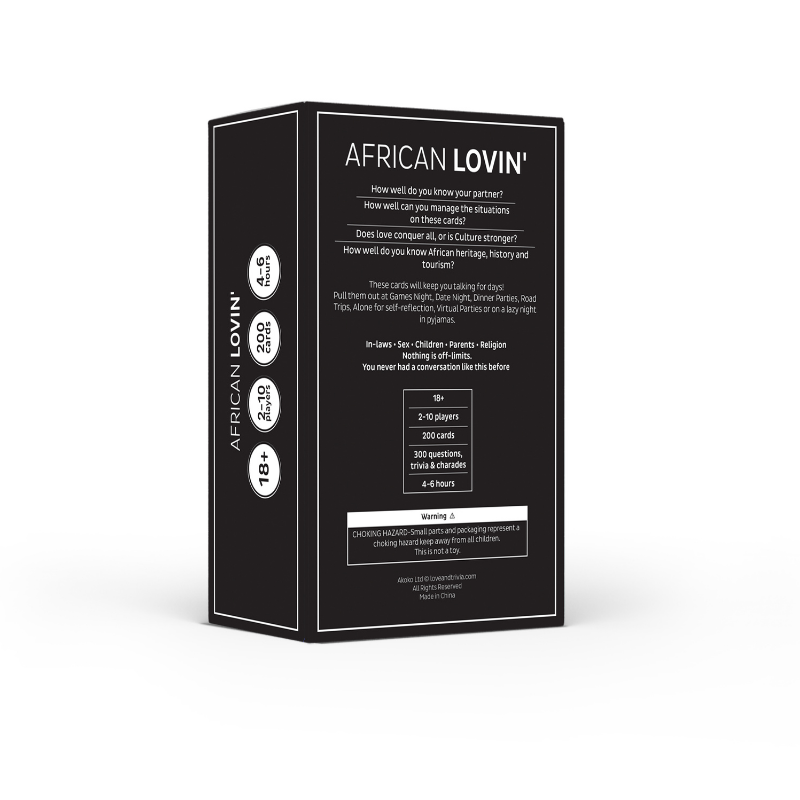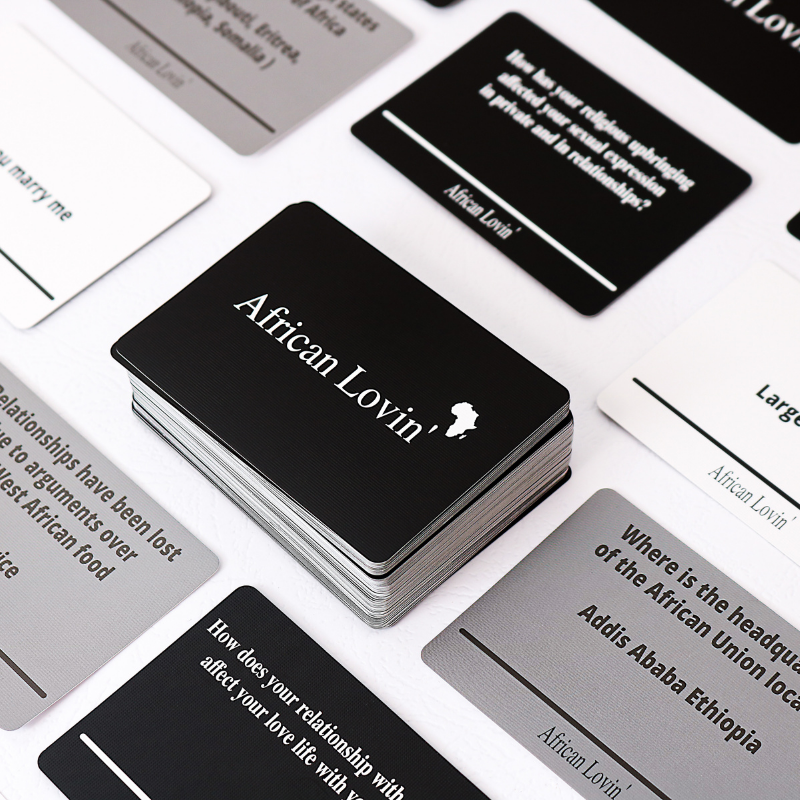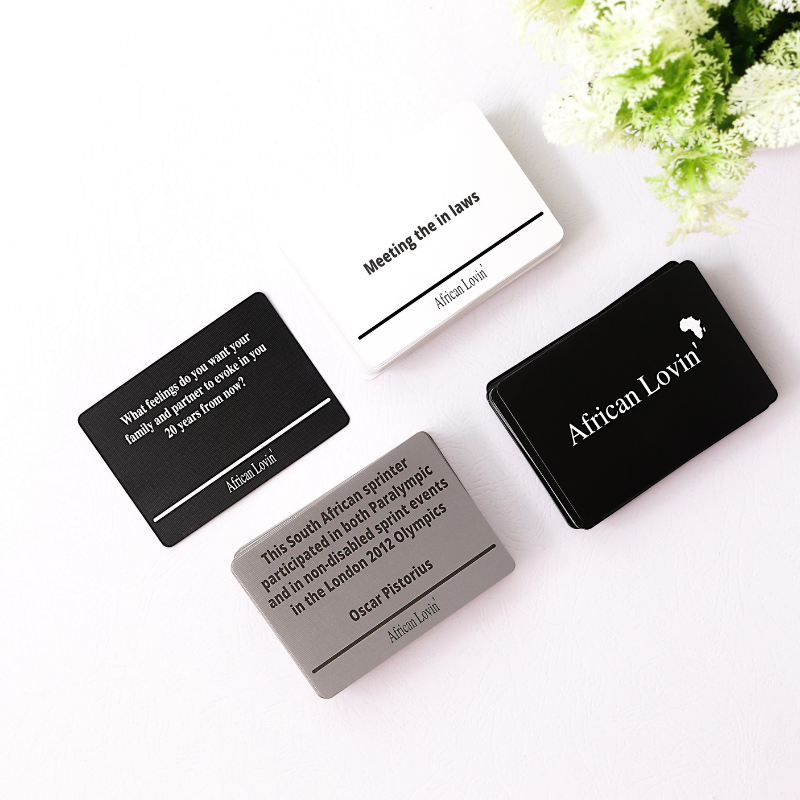 Fantastic game
I love this game. The questions have enabled me to get to know friends on a deeper and more personal level. Helped to build more connections with friends. Fun and thought-provoking.
African Lovin'
Very engaging set of cards. Fun yet educating and eye opening....a must for both light and deep conversations.
Highly recommended for friends, families and even work mates.
Can't wait to get the Numbernot!
Well done Love and Trivia.
Amazing 👌🏾
Love this game!!!
This game is great! I played it with my sister and it sparked such interesting, intellectual conversation between us, we didn't get through all the cards but were talking for hours! It's a great way to get to know anyone (friend, partner or family) better and deeper.
The trivia is also a great addition, I love learning more about Africa. Can't wait to try the charades.
Can't recommend this game enough!!!
Love it! Totally recommend!
Played this with my husband over the weekend and we really enjoyed it. We initially planned to play it for 15 minutes but carried on for a lot longer because it was so fun. It made us think deeper, question our thoughts and views and was a great conversation starter
Another good thing about this game is the fact that it's so versatile and can be played with different people in different settings. Can be used with friends, family, first date, game night…you name it
Really enjoyed playing this game and will be playing it with different people across different settings.
Love it!!
The question cards are not just fun, the are also very vital. I never would have thought To ask most of the questions on there. Also it's a hack to spending time with your partner even while they're playing video games ;)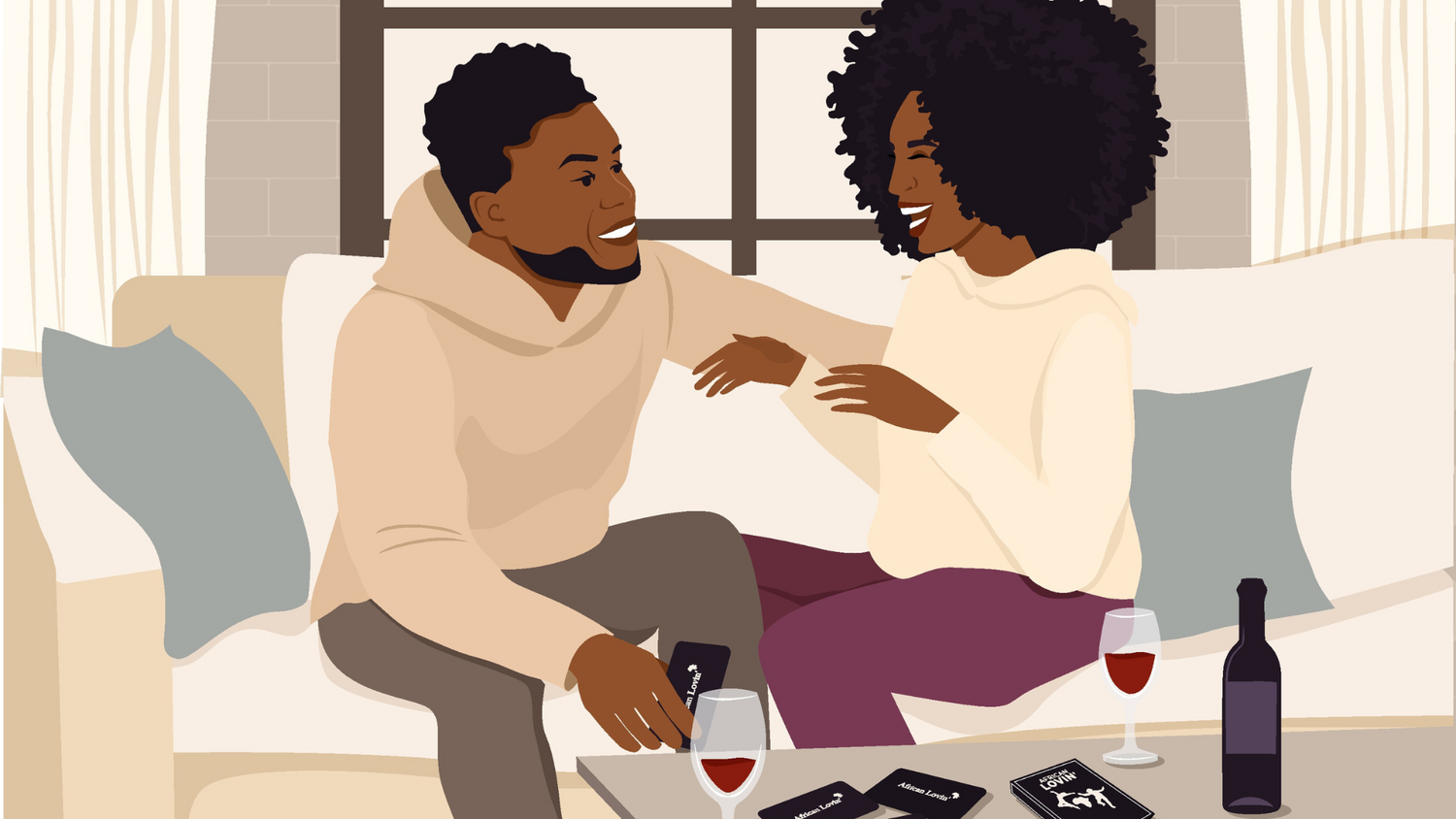 Unexpected Conversation Starters
African Lovin card game includes conversation starters like no other. Pull these out at games night and get to know your partner and friends in greater depth. You may find some unexpected discoveries as you do